a breathtaking view of Kigali
Eagle View
Rebero | Kigali | Rwanda
AFRICAN

BOHEMIAN

LODGE

&

RESTAURANT
Eagle View's magic starts with its scenic location that makes one feel like you're experiencing Kigali at its unadulterated best.
In the folds of the imposing Rebero hillside lurks the African bohemian-style lodge that sits quietly and dramatically atop this hilltop location.
At 5000 feet (1,369 m), the Rebero neighborhood in Kigali offers sweeping views as far as Mount Kigali and Kigali International airport. In this serene, quiet, residential neighborhood, nature clamours for attention, as coniferous trees with their backs ribbed tower into the air.
The relative disconnection from the city gives the sense of being pleasantly cut off from the rest of the world and still have all conveniences nearby making it ideal for honeymoon, business retreat or staycation.
Couples in particular like the location.
With garden views, Eagle View Lodge has a restaurant, room service, bar, garden, grill and terrace. Free WiFi is featured throughout the property.
At Eagle View Lodge, we offer all the personal services one would expect of a hotel, in a warm and comfortable fashion. We can arrange transfer transportation for pick-up or drop off from the airport.
The lodge is not reasonably accessible by public transport, so we do advise our guests to take a cab (from $10) or a motorbike taxi (from $1). 
 For taxi's you can use both Move by Volkswagen or Yego Cabs which are the Rwandan version of Uber or Lyft. Motorbike taxi's are available everywhere you go in Rwanda and mostly used by locals.
Eagle view lodge is located close to Canal Olympia Cinema and Juru Park. It is just about 15 minutes' drive from the Central Business District, 10 minutes to the Convention Centre and 20 minutes to the Kigali International Airport.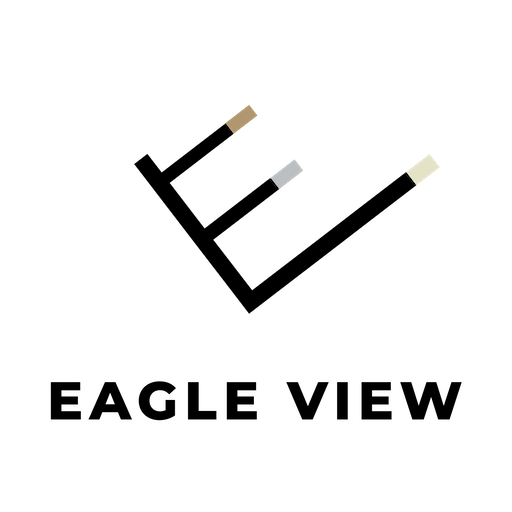 «Incredible views of Kigali, a welcoming and accessible host who made us feel completely at home, a comfortable and spacious apartment beautifully decorated, and some delicious meals… Eagle View has it all! We will definitely be back!»
— Maxime, airbnb, June 2022

«I had an awesome time at the Eagle View lodge. Great hosts and I would recommend this place to everyone. The view, particularly at night, was spectacular. Loved how helpful and accommodating the staff was. Great experience!»
— Charwyn, booking.com, Mai 2022

Kigali in Style
Looking for a unique place to stay in Kigali?
booking@eagleviewrwanda.com
By reservation only
Eagle View Restaurant
GASTRONOMIE
THE RESTAURANT
The restaurant at our lodge is tranquil and inviting to the guests. You can reserve either the living area, outdoor balcony, or our patio deck. The patio deck is perfect for a group of people who want to organize big events, such as birthdays, weddings, anniversaries, dinners, brunch, and many more.
Our restaurant is open from 8:00 a.m. – 9:00 p.m. only by reservations through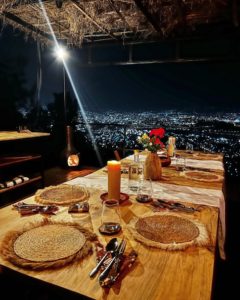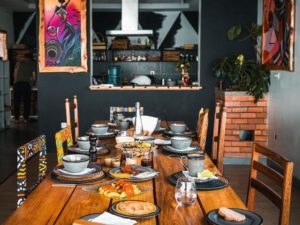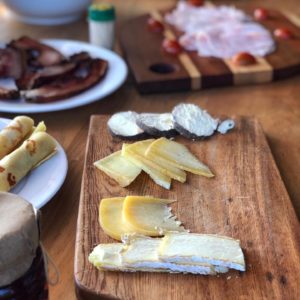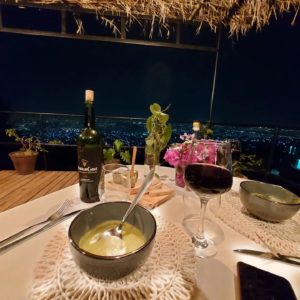 Culture & Parties
EVENTS 
Eagle View Lodge hosts different events and exhibitions for artists around the country. We always encourage small artists to use the space to boost their creativity. 
Any artist can reach out to us for any collaboration at (250) 783 073 921